The Atchafalaya Clubhouse
The Atchafalaya Clubhouse is open to the public, and you don't have to be a golfer to enjoy the spectacular views and great food.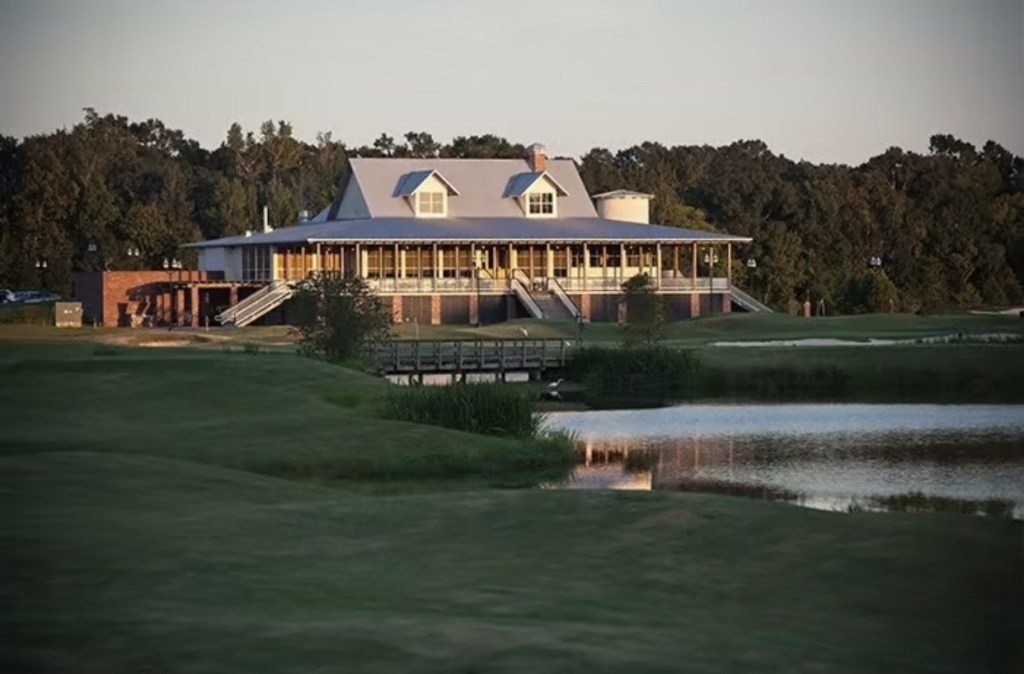 The 10,000 square foot structure is modeled after an elevated Acadian-style cottage, with a 22-foot wide back porch running the length of the clubhouse and overlooking the common green of holes 9 and 18. The stadium-type atmosphere makes it very popular for tournaments where golfers can watch as the others come in.
Approximately 130,000 board feet of cypress lumber were used for rich paneled walls and long leaf pine flooring throughout, and has been recognized as one of the best restaurants in the region!
Meetings
Connected to our restaurant, we offer a private conference room that comfortably seats 25, with a complete AV system featuring 52″ screens and wireless internet, providing the perfect setting for your meeting or event.
Restaurant
Cajun fare and fresh favorites make our cypress clubhouse one of the most flavorful stops in Acadiana. In fact, New Orleans City Business Magazine named The Atchafalaya as one of the top restaurants in the area. We offer a well-stocked bar, large screen HD TV's and great views of the course with seating on our big back porch.
On our menu, you'll find everything from french fries to shrimp cocktails, burgers to poboys, pasta to etouffee, jambalaya, and red beans & rice. You won't leave hungry, and everyone is welcome.
Click here to download a printable menu. For more information or off-site catering, please call (985) 399-3688.
Restaurant Hours
Monday: Closed
Tuesday – Saturday: 11:00am – 9:00pm
Sunday: 11:00am – 2:00pm
Bar Hours
Monday- Sunday: 8:00am – 5:00pm
Want to eat our amazing food but don't want to leave your home? We partnered with WAITR! Have your meal delivered straight to your door!
Address and Contact Information
The Atchafalaya at Idlewild, Restaurant and Bar
400 Cotten Road
Patterson, LA 70392
Phone: (985) 399-3688
Golf Shop
Our Golf Shop features equipment and apparel from Nike, Callaway, Titleist, and Footjoy. Cart storage is underneath with a 66-cart fleet, all offering GPS.